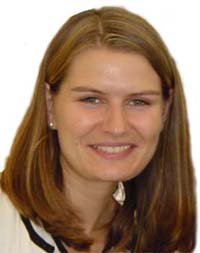 Estelle Nugues

Ingénieur Expert INRIA / Rhône-Alpes Genopole

INRIA Rhône-Alpes
655 avenue de l'Europe, Montbonnot
38334 Saint Ismier CEDEX
France

Tel. +33 4 76 61 53 72
Fax +33 4 76 61 54 08

Secretary (Françoise de Coninck)
Tel. +33 4 76 61 53 63

Estelle.Nugues@inrialpes.fr
http://www-helix.inrialpes.fr/


Curriculum vitae

Current projects and collaborations
Curriculum vitae
I was born on April 29th 1976 in Mâcon. I studied at the University of Bourgogne in Dijon where I graduated in Plant Biotechnology in 2000. Then, I obtained my Master in Computer Science at the University of Paris V in 2001.

You can find all my job experience on my web site: http://estelle.nugues.chez.tiscali.fr/

I joined the Helix project of INRIA in spring 2003 to be in charge of the bioanalysis of the bioinformatics group of the LCP laboratory ("Laboratoire de Chimie des Protéines"), CEA Grenoble.

Current projects and collaborations

I am in charge of the validation of the software pipeline Taggor-PepMap called PepLine. This software is dedicated to high throughput proteomics, more especially to protein identification and gene localization from tandem mass spectra data.