In a better world, the authors of biological papers would respect the recommandations of the existing nomenclatures when using and writing gene, proteins or species names... Note however that the ambiguities set by the names which are identical to common words, such as "if" or "T-Shirt", would then remain unsolved.
In a better world, these names would be marked up in the texts so that simple lexical analysis would allow for their identification and characterisation. Note however that this would not solve the problem set by synonyms and lexical diversity. Linking the name to the correct biological entity would still require the use of dictionnaries.
In a perfect world...Well, where would be the fun ?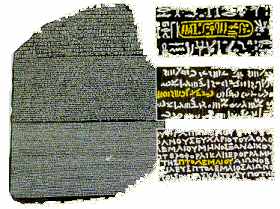 The Rosetta stone (British Museum) : a convincing example of the advantages of marking up texts...
In hieroglyphic texts, names of kings are surrounded by a
cartouche
. T. Young (1773-1829) made the hypothesis that the name which thus appears six times in the hieroglyphic (upper) part of the Rosetta stone was the name of Ptolemy which is easily identified in the Greek text (in the lower part of the stone; the middle part is written in demotic). The correct association of the contents of the cartouches with the name in Greek was the first step which led J.-F. Champollion (1790 - 1832) to the successful decipherment of hieroglyphs.