GenoLink's strength lies in the fact that it can explicitly represent and manipulate relationships between biological entities. These include similarities between genes, functional families, existence of syntenies and physical interaction between proteins.
GenoLink allows the user to build advanced queries based on these relationships, and to browse the results through a powerful and intuitive interface.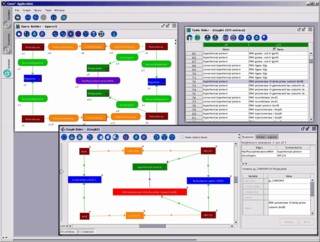 GenoLink brings insight into new relationships by progressively browsing through the different types of link that relate a given entity, such as a gene or a protein, to another relevant entity. Such correlations may suggest, for instance the function of an orphan gene.
GenoLink thus extends the annotation process initiated by GenoAnnot towards the characterization of the functions of gene products.